Article
Joining the Digital Bandwagon
14 Aug 2022 • 3 min Read
Joining the digital bandwagon. What platforms and services are available for you?

For most new online businesses, digital tools are the pinnacles of their success. From helping to keep you organized, managing your finances, and even storing all your confidential data—there are a variety of uses they provide to SME's. Recent developments in technology, specifically in cloud computing, have led to reduced entry and exit barriers, and minimal costs, consequently enabling SMEs to grow their businesses faster and punch above their weight to compete against larger businesses.

The competitive landscape for businesses is rapidly changing. Larger enterprises that have relied on large-scale investments in IT infrastructure as a source of advantage in the past are now seeing a re-balance in power. What seemed to be an advantage then is no longer seen as an advantage.

Until recent times, the prohibitive cost of on-premise solutions and limited resources in skilled IT manpower were putting technology out of reach for SMEs. The tables have now turned with the advent of SaaS and Cloud, giving SMEs access to cutting-edge software, bringing about a democratisation of technology. Many SMEs are increasingly embracing cloud-based SaaS applications. The difference between on-premise and SaaS is akin to the difference between a bulky, old-school cruiser and a snazzy, 'fill it, shut it, forget it' economical motorcycle.

A World Bank study estimated that SMEs account for nearly 95 per cent of existing businesses, and their products and services account for 49.8 per cent of the global economy. According to a report compiled by Google and venture capital firm Accel, global SaaS is projected to grow from $68 billion in 2016 to $132 billion by 2020, driven by demand from SMEs.

The advantages of embracing cloud-based SaaS applications for SMEs are manifold. For most SMEs, getting maximum returns and efficiency out of every resource is vital to their long-term success and profitability. The nature of the SaaS market means there are no physical infrastructure costs and that one pays only in predictable monthly or annual outgoings, rather than a large upfront capital investment, helping with budgeting and cashflow i.e., a nearly zero capex and minimal opex model. Updates to cloud-based SaaS applications are automatically administered as well, thereby saving businesses valuable time and maintenance costs. Cloud-based SaaS applications are inherently built to be accessible round-the-clock and configurable in minutes, reducing the deployment time vis-a'-vis on-premise solutions.

The biggest need for a fast-growing SME is that they need a scalable solution. SaaS services can be scaled with one's business growth, making them ideal for fast growing SMEs. Extra capacity can be purchased on a need basis, rather than making over-allowances for future requirements. To quote an analogy, buying an on-premise solution is like buying a cow, when all you want is a cup of milk; whereas a SaaS solution is like buying a small quantity of milk as and when you need it.

Considering that millennials will account for 75 per cent of the workforce by 2025, businesses that provide tools, structures and mechanisms that enable employees to collaborate will have an easier time attracting and retaining talent. A culture of collaboration also supports agility through improved communication and greater ability to change. The adoption of cloud-based SaaS applications makes it easier to distribute information across the organisation via the web in real time, promoting teamwork and collaboration, not only among employees but also with customers.

Below are six basic tools that you should be using on a daily basis for your business to run smoothly and efficiently.
 
Calendar App

For scheduling your day accordingly and staying on top of your to-do list while running a business, the Calendar app on your smartphone or computer should be your best friend. While a fairly simple tool, it offers a higher level of organization that should be taken advantage of during arduous projects that involve extensive preparation and a long time commitment. Also, the ability to share your calendar with others is vital in ensuring that everyone on your team is aware of when are the most opportune times to schedule meetings or contact you in any way. 
A Professional Website
It's imperative to dedicate some time and energy into building an online presence. This is primarily done with a professional website that is used to share your product or services with interested customers. With this type of platform, you can connect all your social media, provide a page for easy contact and communication, as well as a blog that you can regularly update in order to keep clients informed and interested in your business. Any potential clients will also have somewhere to turn to when they are interested in learning more about our company and what you offer.
A Virtual Data Room
Every business needs to invest some time and money in finding the best platform for sharing and storing their confidential company data. A virtual data room is the best option for businesses in need of a secure space to stay in communication during arduous deals or transactions and to ensure that anything they upload onto it stays under lock and key. Features such as complex permission settings allow an administrator to stay in control of who sees what in the data room and for how long, and the ability to disable print and download make it that much harder for third parties to leak information without authorization. A VDR is the best way to keep all your sensitive data safe so that your business can continue to run without a hitch. 
Social Management Platforms
Like with a website for your business, social media has become a big jumping off point for interested customers to find your company and learn more about what you offer. This makes it incredibly important to always be updating your social media platforms and maintaining an online presence that will grow your customer base the longer you interact with the community. However, this isn't as easy to do on your own, which is why social management platforms are being used to schedule these posts for you. You can write them out in advance, attach a photo of your most recent product, and have it posted a few days, weeks, or months later, depending on your needs. Save yourself the time and energy and invest in these types of tools to manage your social media platforms for you. 
Video Communication Apps
For an easy way to stay in contact with your staff or your clients, video conference apps are perfect to have accessible on your phone or your computer. They allow you to work remotely if necessary—something that many business owners must do when they when you are travelling or on the go. You can host meetings directly on your phone without worrying about a specific time and location, providing a broader scope of who, around the world, you can hire to work for you and who you can offer your services or products to. 
Accounting Software 
It's difficult to manage all your finances on your own, which is why accounting software should be used to your advantage. It helps you keep track of your expenses, the profit you've made, and any sort of error that might otherwise go unnoticed. There are a variety of free platforms that offer the bare minimum of what you need to begin your digital business journey, but also a plethora of subscription-based tools that can act as your own personal accountant when business begins picking up and managing costs becomes a bit trickier.

The following table provides some potential digital platforms that fit the bill.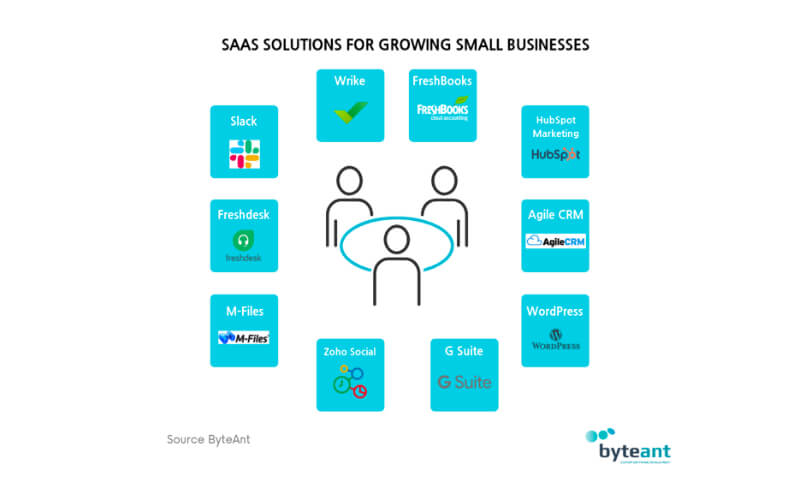 The immediate future for SaaS looks to be an extremely exciting one. There are a number of suitable platforms and digital platforms than SME can consider.  However, taking this leap for SMEs can be a daunting step which may explain why adoption of SaaS in current times is still limited. The benefits for SMEs, however, are undeniable and the sooner small businesses realise this, the faster they can lay a solid foundation for future growth.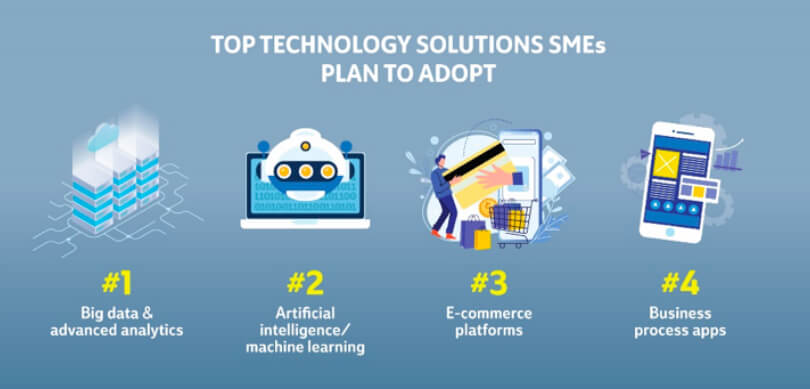 Interested in more helpful content?
Just sign up to access it all: a wealth of exclusive business insights, events you can attend and so much more!
Sign up now
How did you find this offering?
Want to join the conversation?
To unlock comments, log in or sign up now!
Sign up now
Dig deeper on topics that matter to you