Article
Excite Your Customers with an Innovative Game Plan
14 Aug 2022 • 3 min Read
Yusman Ammeran, unifi General Manager, Sales & Distribution Planning (Consumer & SME) has several more tricks up his sleeve. Follow him now as he takes a 360-degree look into the third element of the 4Es mix: Excite customers. Continue reading!
Set yourself apart

As the market becomes more and more competitive, the way for you to rise above the clutter is to dare to be different. Successful companies rely on three fundamental strategies to differentiate themselves from others.
These strategies focus on:
Price

Innovation

Customer experience (CX)

If we consider what consumers truly want from a product, great customer experience is arguably the most important tactic to conquer competition. A case in point is a company that provides better perceived value to its customers is more likely to remain a crowd favourite, even though competitors offer a lower price.

Services also differentiate you from your competitors. Identify your customers' issues and their processes better, and use the knowledge to drive actions for improvement. Particularly in a services-led economy, innovating the services you offer is an essential strategy to generate more revenue, increase margins and create happier customers.

Stages of an outstanding CX journey

The key question is how can we excite customers from the moment they search for what they need to the delivery of products or services to after-sales support. How do we keep engaging with customers to deepen our relationship with them?

To create a customer for life, an in-depth understanding of the different levels of customer touch points is important.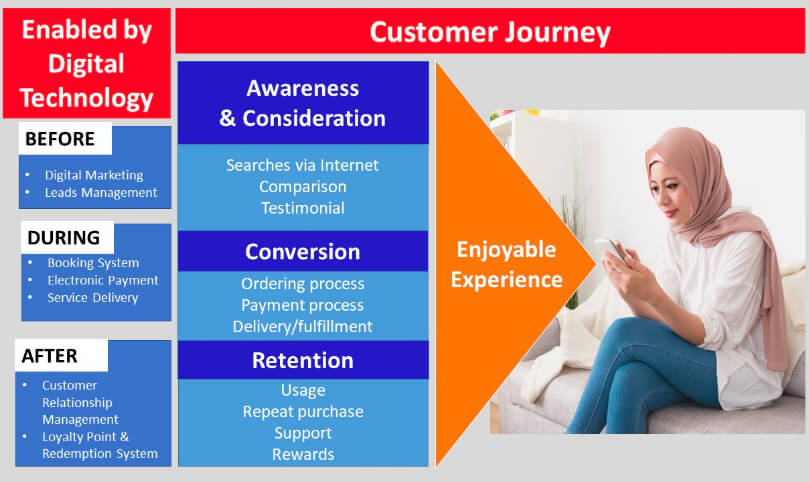 It starts with need generation, when a potential customer searches on the Internet for a product that meets their needs. At this phase, prior to the "BEFORE" stage, a relationship is not yet built with a brand or company.
Then, once the prospect becomes aware of our product, they would express their interest in many forms. In Malaysia, potential customers usually request for more information using the phrase "PM tepi" (private message me). There are multiple ways to register prospective customers' interest via digital means, and establishing follow-up mechanisms is crucial so that we can turn their interest into sales transaction.

The next stage in the journey is the ordering and payment process. At this "DURING" stage, they will again interact with us to complete the transaction.

After completing the transaction process, the journey continues with the delivery process or "AFTER" stage. For SMEs, the full cycle of a customer journey is not easy to manage if it involves manual processes. Hence, to provide an enjoyable experience to customers, SMEs need to adopt digital transformation and automate their business processes.

An automated system will enable SMEs to keep customers updated at every stage, while ensuring that the service or product is delivered according to customers' requirements and in a timely manner.

The majority of SMEs are very aggressive in getting new customers but lack focus in retaining their existing customer base. It's understandable because not many SMEs keep a record of their customers in digital form, a key element to run effective loyalty programmes and upselling campaigns.

The good news for SMEs is that there are many cloud-based applications in the market that can help SMEs address all stages of the customer journey.

Be different, driven by digital

In conclusion, being different means you step out of the mould, start thinking out of the box and produce unique solutions to the market. It's what great leaders, entrepreneurs and inspiring minds do.
Furthermore, a fantastic customer experience must always be supported by digital solutions. Data collection from the digital enabler is key to make the journey as enjoyable as possible.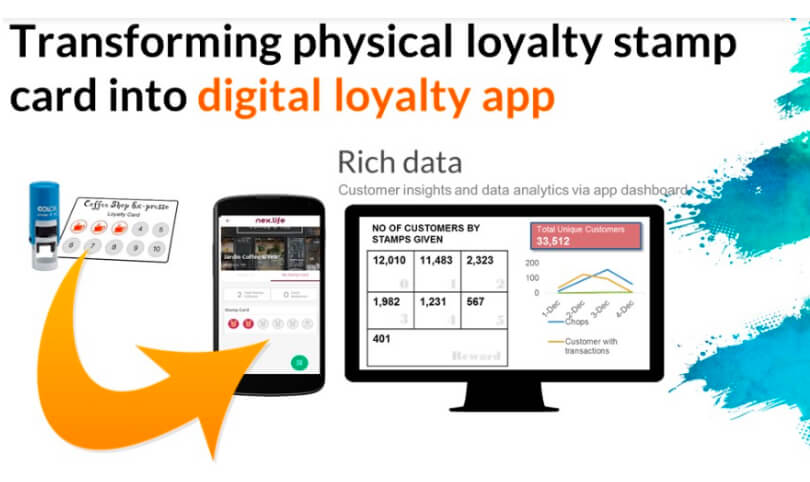 For example, you can optimise customer loyalty by leveraging available technology such as a digital loyalty app. This allows you to take customer centricity to the next level, in tune with the digital lifestyle of Malaysian consumers. Interested to know more? An exciting announcement is coming soon, so watch this space!

About the author

A proud advocate for the SME industry, Yusman Ammeran has made strategy formulation and roadmap rejuvenation a strong headliner for advancing business innovation. His experience is built on his exciting career trajectory from Service Engineer to CEO of TM Info-Media to unifi Head of SME Business, and now unifi General Manager, Sales & Distribution Planning (Consumer & SME). Drawing from his years as a power player in the ICT industry, Yusman injects valuable insight into the various B2B and SME segments under his overview. His creative ideas, close collaboration with SME ecosystem partners and impactful initiatives with his team have led to awards such as the Marketing Excellence Award, SME Supporter Award, SME Malaysia TOP recognition and even one from the Malaysia Book of Records.

Check back soon for more great tips from our SME Insider series. In the meantime, power ahead and refine your CX strategy with SME-friendly solutions from unifi and Yellow Pages Malaysia.
Interested in more helpful content?
Just sign up to access it all: a wealth of exclusive business insights, events you can attend and so much more!
Sign up now
How did you find this offering?
Want to join the conversation?
To unlock comments, log in or sign up now!
Sign up now
Dig deeper on topics that matter to you