Browse our article collection
Facilitate your business learning and enrich your knowledge
Article
Perisian Perniagaan yang Anda Boleh Manfaatkan Sebagai Ahli Unifi Business Club (UBC) 
31 Jan 2023 • 3 min read
Banyak diskaun eksklusif ditawarkan hanya untuk ahli UBC berdaftar. Memang berbaloi! 
Para peniaga yang melanggan mana-mana pakej perniagaan Unifi Business berpeluang menerima banyak faedah yang dapat meningkatkan keberkesanan perniagaan yang dimiliki. Contohnya, mereka boleh menikmati pelbagai solusi perisian perniagaan yang ditawarkan di Unifi Business Club (UBC). 
Perisian-perisian tersebut bukan sahaja menjanjikan penjimatan kos, bahkan mampu meluaskan capaian terutamanya bagi perniagaan yang dimiliki oleh usahawan perusahaan mikro, kecil dan sederhana (PMKS). 
Menarik, kan? Jom ketahui dengan lebih lanjut! 
Swingvy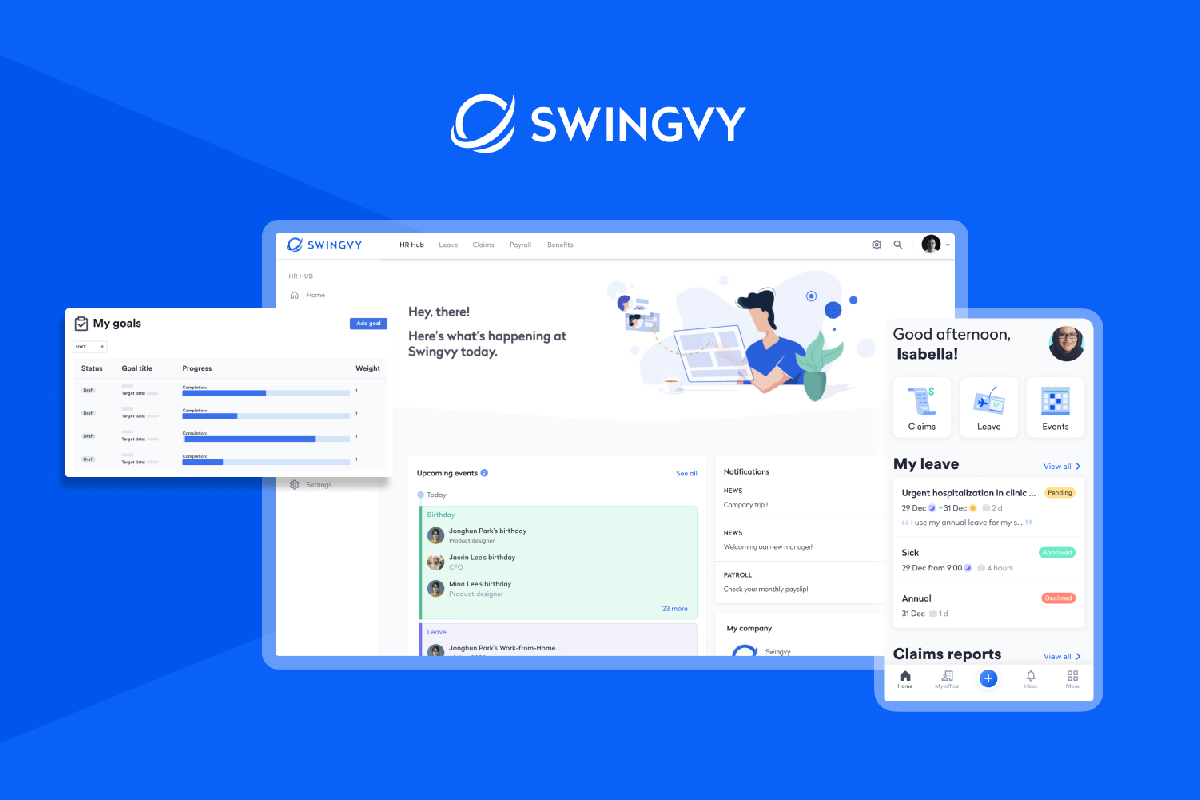 Swingvy ialah perisian yang berfungsi untuk menyusun atur sistem operasi sumber manusia secara dalam talian agar pengurusan tenaga kerja sesebuah syarikat dapat diseragamkan dan berjalan dengan lebih lancar. 
Antara keistimewaan yang ditawarkan oleh Swingvy ialah pengurusan cuti pekerja, pengurusan gaji (payroll) serta catatan masa dan kehadiran pekerja. Ia membuka peluang baru kepada pihak pengurusan untuk memantau dan menguruskan hal yang berkaitan dengan kebajikan pekerja secara sistematik. 
Pengguna juga boleh memuat turun aplikasi mudah alih Swingvy melalui telefon pintar. Aplikasi ini bertindak sebagai hab sehenti bagi memudahkan para pekerja mendapat akses kepada maklumat yang tepat daripada pihak pengurusan sumber manusia. Dengan pelaksanaan sistem pengurusan syarikat seperti Swingvy, sudah tentu banyak kos yang dapat diminimumkan. 
Sehingga kini, Swingvy telah membantu banyak syarikat ternama tempatan untuk mewujudkan sistem pengurusan sumber manusia yang lebih cekap. 
Rebut promosi eksklusif Swingvy untuk ahli UBC! Klik pautan ini sekarang. 
Financio 
Financio ialah perisian yang direka khas untuk memenuhi keperluan peniaga masa kini. Ia sesuai untuk kegunaan usahawan PMKS yang baru sahaja memasuki fasa pendigitalan perniagaan kerana kebanyakan mereka tidak mempunyai sistem pengurusan perniagaan yang lengkap. 
Sistem operasi Financio merupakan platform dalam talian yang membantu pengguna untuk menghasilkan dokumen perakaunan dan percukaian dengan mudah dan ringkas. Pengguna boleh merekodkan data dan menjana laporan percukaian secara automatik dengan hanya memasukkan maklumat berkaitan pembayaran dan perbelanjaan syarikat. Segala maklumat yang dijana akan terus dihantar ke e-mel secara automatik bagi proses pengeluaran invois.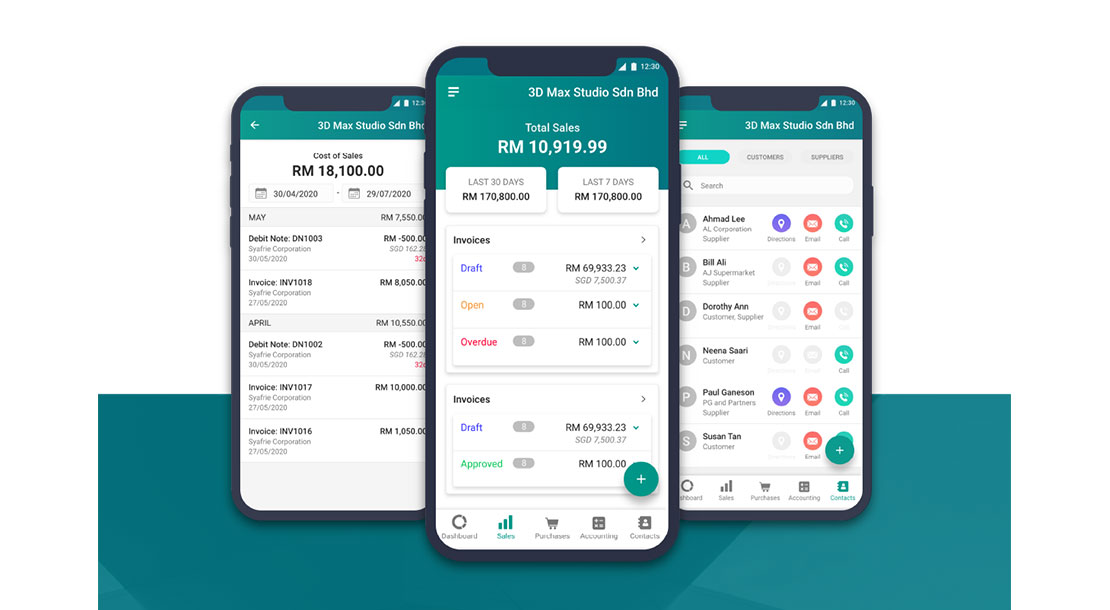 Financio turut dilengkapi dengan fungsi pengiraan Cukai Barang dan Perkhidmatan (GST). Ia berupaya menghasilkan fail berformat seperti GST-03 dan Fail Audit GST (GAF) mengikut keseragaman yang telah ditetapkan oleh Jabatan Kastam Diraja Malaysia. Jangan risau kerana semua data cukai dan akaun milik perniagaan anda yang disimpan dalam perisian Financio adalah selamat dan setaraf dengan tahap sekuriti yang digunakan bank. 
Dengan adanya perisian solusi perniagaan seperti Financio, tiada lagi masalah untuk menguruskan kewangan dan percukaian biarpun anda tidak mempunyai latar belakang dalam bidang perakaunan. 
Tawaran hebat Financio khas buat ahli UBC menanti anda! Klik di sini. 
KryptoPOS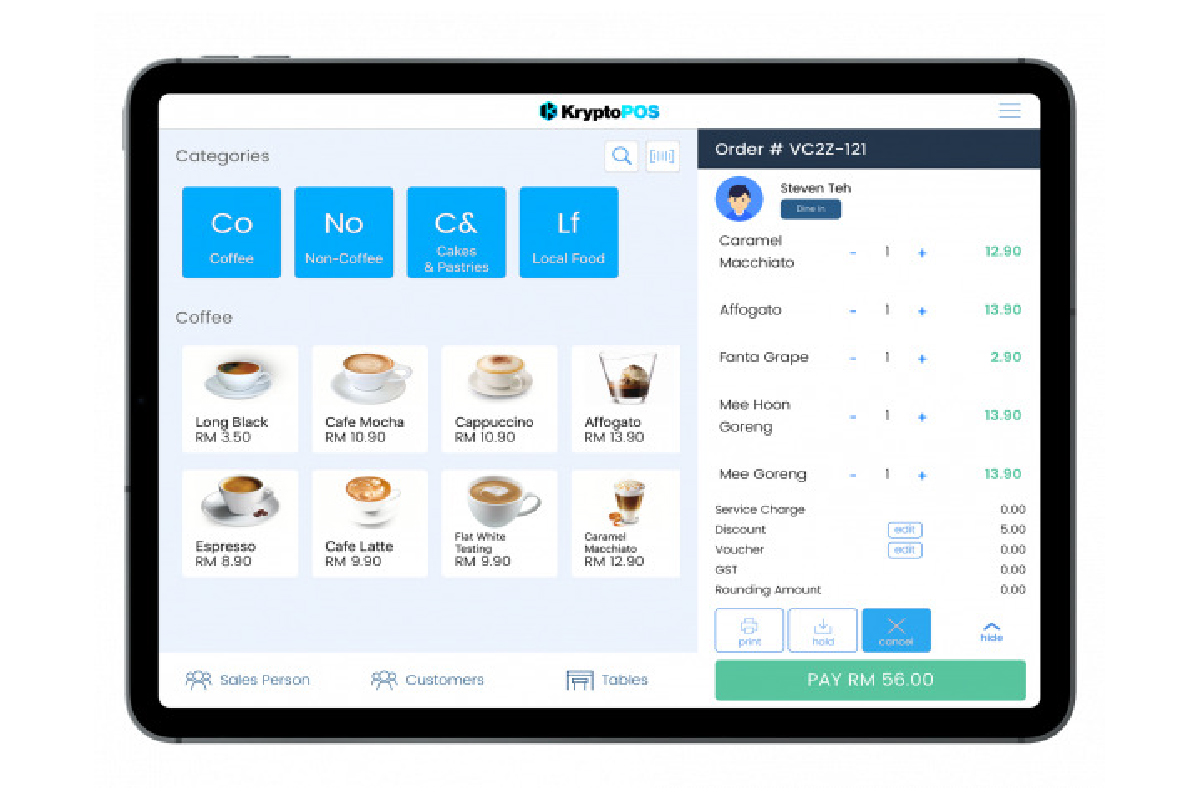 KryptoPOS ialah perisian yang direka dengan fungsi khusus sebagai platform data dan teknologi runcit untuk menguruskan Point of Sale (POS) atau titik jualan sesebuah perniagaan. POS ialah sistem yang membolehkan anda sebagai pemilik perniagaan untuk menjejak jualan serta menguruskan transaksi pembelian pelanggan dan inventori syarikat. 
Bagi melancarkan perniagaan industri makanan dan minuman (F&B), anda boleh memanfaatkan iPad Cloud POS. Sistem ini memudahkan kakitangan restoran untuk mendaftar pesanan pelanggan terus ke dalam sistem yang telah tersedia menerusi platform dalam talian. Dengan cara ini, proses pesanan akan menjadi lebih ringkas dan cepat. Ia boleh digunakan oleh semua jenis kedai makan dan restoran yang memerlukan pengambilan pesanan dari meja ke meja. 
Sistem pesanan iPad Cloud POS tersebut boleh disambungkan terus ke bahagian dapur untuk dicetak secara automatik. Ia dapat menyokong sehingga sembilan buah mesin pencetak pesanan. Staf yang bertugas untuk mengambil pesanan sudah tidak perlu menghantar pesanan pelanggan ke bahagian dapur secara fizikal. 
Jika anda pemilik perniagaan francais, KryptoPOS membolehkan anda memantau dan menguruskan POS di semua cawangan secara serentak berpandukan satu sistem yang telah diselaraskan. 
Dapatkan diskaun istimewa KryptoPOS untuk ahli UBC. Klik pautan ini. 
Jangan lepaskan peluang untuk mendigitalkan perniagaan anda bersama UBC! Nak tahu banyak lagi manfaat eksklusif serta info tentang sistem urus niaga terkini? Jom layari ruangan Solusi kami. 
Interested in more helpful content?
Just sign up to access it all: a wealth of exclusive business insights, events you can attend and so much more!
Sign up now
Want to join the conversation?
To unlock comments, log in or sign up now!
Sign up now
Article
How to Digitalise Your Business Like a Pro
11 Jan 2023 • 3 min read
Just like anything else, digitalising your business has its pros and cons. Even so, if you know how to manage the challenges that come with digitalisation, you stand to reap the benefits of doing business online. 
Digitalisation is the next frontier for all, be it businesses or customers. The acceleration of digital transformation was especially evident during the height of the pandemic. In such a paradigm-shifting time, the option to connect beyond face-to-face interactions helped to empower us in overcoming limitations with comfort and convenience.  
In the context of business, even though brick-and-mortar retail remains a staple of the consumer experience, no one can doubt that online shopping has its own set of advantages. For enterprising individuals such as yourself who are running your own business, going online is the perfect way to maximise your resources at hand! 
Of course, there will be challenges to face so keep this guidance in mind. You'll be better prepared to overcome obstacles and get on the right track for business growth! 
Planning your start-up costs 
Perhaps the biggest challenge in initiating your business online would be the start-up costs. Though some initial platforms are free to use — Instagram, for example — there may be other expenses to consider. 
These could include costs for website hosting and search engine optimisation (if you're setting up your own page), copywriting and design (if you're looking to outsource the talent), and page maintenance among others. 
Of course, the costs all vary depending on how much you're willing to take on and do yourself, and what else you'd like to invest in the long run. Determining this starting amount properly would ultimately help you navigate the realm of online business with a strong digital presence. 
You can always work around the issue of budgeting by learning more about financial tools and marketing know-how. By doing this, you can spend less on outsourcing and have more of a say on how you want to put your best foot forward. 
Pro tip: Explore financial assistance specially designed for unifi Business Club (uBC) members.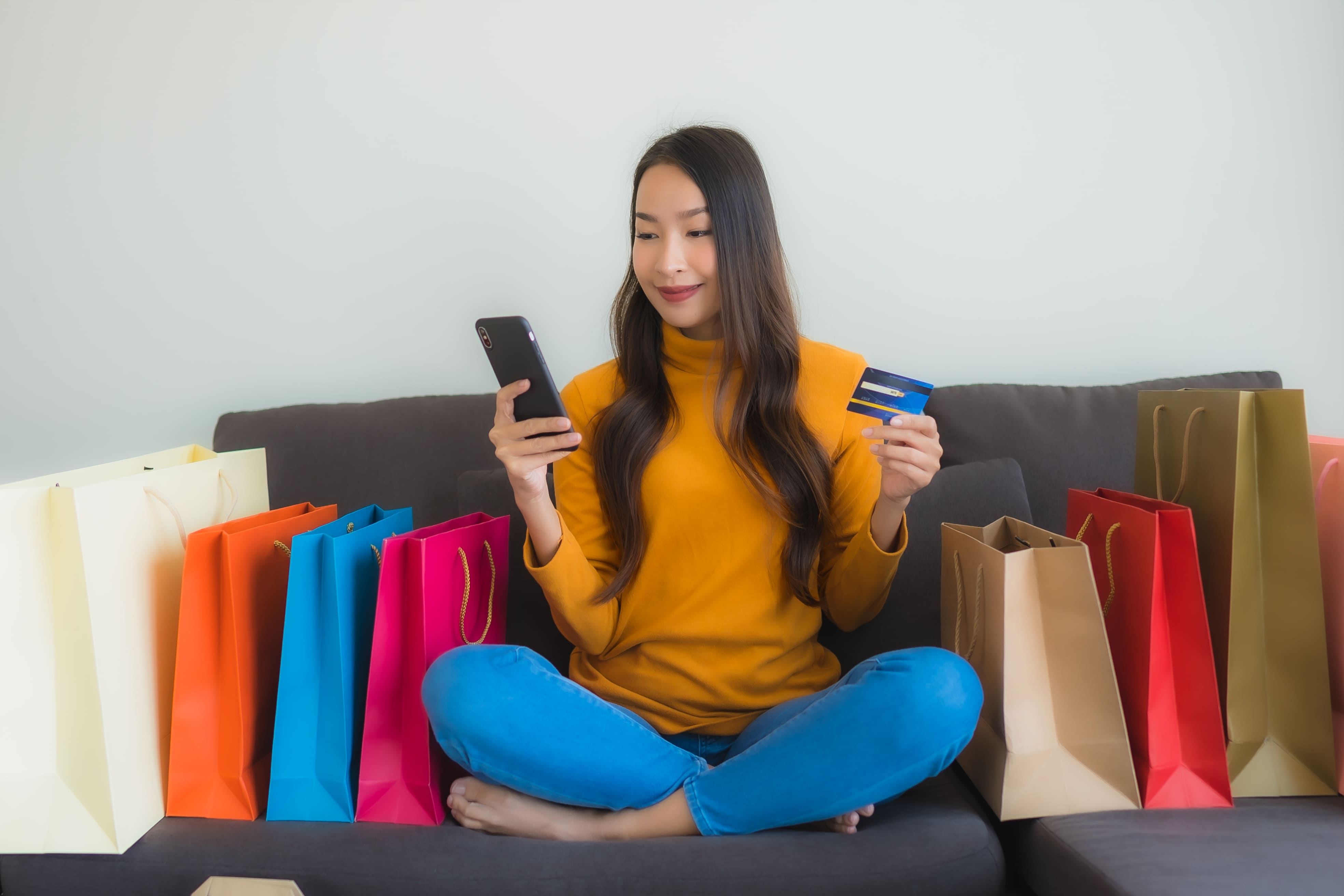 Ensuring security for buyer and seller alike 
When it comes to security, both customers and businesses can be at risk of being tricked. The threat doesn't just apply to small businesses; more established companies too have found fraud to be a rampant issue. 
In August 2022, a survey by software company Stripe found that up to 64% of businesses faced difficulty in countering an increase in fraudulent activity. They struggle not only due to the increasing frequency of fraud, but also because of the growing complexity involved in these fraudulent schemes. The danger is becoming harder to detect or deflect, especially without knowing what to look out for.    
That's why when it comes to handling transactions online, it's always best to keep it simple and transparent. The only information you share across should be limited to just the appropriate account numbers, pricing and confirmation of purchase. 
Pro tip: Kaspersky Small Office Security provides worry-free protection for your entire business.
Furthermore, it helps if there's a way for customers to contact you directly to inquire and double check. This can be useful to counter instances of fake accounts or identity theft, and in turn help boost your credibility and readiness to serve.  
Beyond the challenges of cost and security, it is also a matter of how you go about building familiarity between your customers and your brand, leading to loyal buyers. With these points to consider, you'll be primed to take on the world of online business and set the course for your next achievement! 
As you take your business online, finding the right solutions to ease your day-to-day processes can be a challenge. Know that you're not alone! Solutions from uBC are tailored to support your business digitalisation. Claim the exclusive member deals now!  
Interested in more helpful content?
Just sign up to access it all: a wealth of exclusive business insights, events you can attend and so much more!
Sign up now
Want to join the conversation?
To unlock comments, log in or sign up now!
Sign up now
Events
Mark your calendar
Join our events to gain in-person guidance and expert advice.
Find out more
Customer Stories
Hear from our customers
See what other businesses that have tried, tested and loved UBC have to say.
Go there