Article
5 Things To Consider When Choosing Cloud Accounting Software
02 Aug 2022 • 1 min read
It is important for business owners to identify the needs of the business before deciding on the appropriate software. Instead of diving right into the various options available in the market, let's first address this question: What should I be looking for in a cloud-based accounting software?

Here are five crucial things you may consider:
1. What functions or features are must-haves?

Some features fall under the category of 'nice to have' instead of 'must-have'. Therefore, it is important to identify them to avoid spending extra funds unnecessarily.

Across all businesses, the basic ability to issue invoices and bills are definitely necessary. Having a system that automates that process for you and omits the need for a double entry is definitely a plus. The goal of the functions and features should always be to ease your accounting chores.

Medium and large enterprises will have more requirements to integrate their human resource, finance, sales and marketing ecosystems; as such, they will likely require an enterprise resource planning (ERP) solution instead.

2. Will I require support?

If you are getting your new business off the ground and attempting to self-manage your accounts, good support is highly encouraged.

3. Available reports

With all the hard work keeping track of your accounts, you'd want to make sure that the software is able to generate all your required reports. For starters, the Profit & Loss, Aged Payables and Aged Receivables are reports that business owners should refer to when making business decisions.

4. Speed and security

Unlike a desktop accounting software, the speed and security of your cloud-based software will be dependent on the solution provider. The hosting location plays a big part in the speed and stability of the software. As for security, ensure that your data is hosted on a secure system with regular, multi-location backup.

5. Cost

Upon considering all of the above, you will quickly realise that the pricing for cloud-based accounting software is competitive and the saying 'you get what you pay for' applies. Do note that it is most common for cloud-based accounting software to charge a low subscription fee instead of a hefty one-time payment.
Interested in more helpful content?
Just sign up to access it all: a wealth of exclusive business insights, events you can attend and so much more!
Sign up now
Related solutions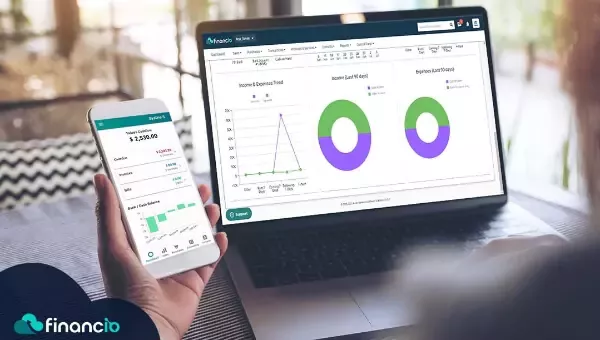 Conduct all your accounting from the…
Financio
Try Easier and More Accessible…
Accounting automation to alleviate human errors
Accounting on-the-go​
Unlimited users ​
Multi-currencies and multi-languages​
How did you find this offering?
Want to join the conversation?
To unlock comments, log in or sign up now!
Sign up now
Dig deeper on topics that matter to you