Article
Top 5 Reasons Why You Need Mesh Wi-Fi in Your Office
29 Jul 2022 • 3 min read
Are you tired of all those moments when you have to move with your laptop from one room to another and all of the sudden, poof! You discover that your Wi-Fi range is not wide enough?
​
This problem can be fixed with Mesh Wi-Fi as a Wi-Fi extender.  A Mesh Wi-Fi is basically extends the signal of your wireless router so you can get reliable Internet access anywhere in your office.
By definition, a mesh network is made of interlocked routers called nodes. These nodes connect to each other and offer internet coverage over a larger area, something that a traditional network cannot do.
How Is Mesh Wi-Fi Networking Different?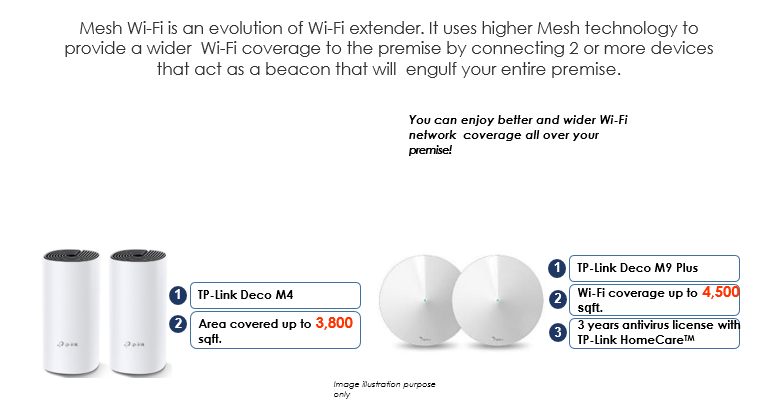 A Mesh Wi-Fi extender is a good idea for a small office because it increases the wi-fi signal throughout the area. Extenders are excellent if you install them in a not-too-large space. However, when we are talking about a space lying on different floors or a larger area, then you will see that wi-fi extender are not so effective anymore. They will remain cost-efficient, but you should also compare their effectiveness also.
Mesh Wi-Fi will also help address slow Internet, which can quite obviously damage hurt your business. Perception is everything, and one of the most common ways consumers will judge your business is their Internet user experience. A Mesh Wi-Fi will be that much needed connectivity boost that you need to ensure the customer experience in your facility is seamless and lag-less.
Mesh Wi-Fi will also help solve one of the most disturbing problems, that of having dead zones in your premises. Mesh Wi-Fi provide a better coverage by incorporating different hubs which communicate with one another. In addition, setting up a Mesh Wi-Fi is not difficult at all. Furthermore, each hub represents a separate router, offering enough coverage in any area of your office or home.
But that's just a general overview, and that may not apply to your situation.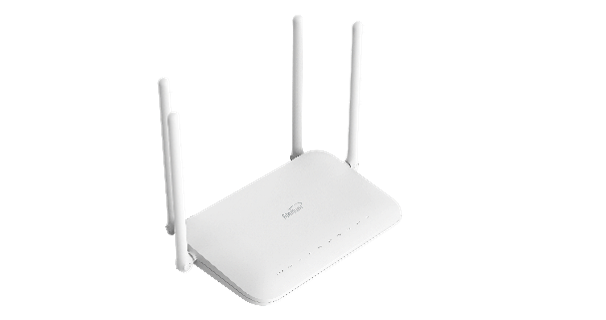 Wi-Fi 6 cerified Mesh

Wi-Fi coverage up to 4,000 squarefeet

Provides the highest level of Wi-Fi performance: Faster and latest

Ideal to support future busier environment with multiple connected devices, 4K/8K UHD streaming and smart IoT devices/gadgets
So why should you get Mesh Wi-Fi for your office?
In this article, we'll break down the top five reasons you need Mesh Wi-Fi — even if you don't think you do!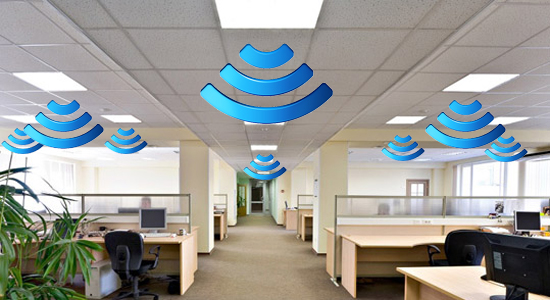 Main Advantages of Mesh Wi-Fi:
Easy Network Management

Mesh Wi-Fi have been designed to offer easy network access. This is what makes them so popular in comparison to traditional routers. It can be easily accessed via smartphone. You can use a mobile app to access and control mesh routers even when you're not in its immediate proximity. While being far away from your router, you can:
Scan the network speed,

Create a brand new guest network,

Cut off Wi-Fi access to a certain network,

Connect to multiple office appliances and devices, and

Test and compare the different connection points
Reliability: No dead zone

This refers to the reliability of your wireless Internet as a whole. Without Mesh Wi-Fi, your office or business premise is prone to dead zones. Much like cellular dead zones, that means you don't get the wireless service you need for your Internet-connected devices to work properly.

That means you could lose a Wi-Fi signal at any point, including in the middle of an app update or download. Mesh Wi-Fi eliminates that possibility by taking your router's original wireless signal and rebroadcasting it at its original strength.
So while your router's signal may only have a range of about 100 feet, your Mesh Wi-Fi units — called "satellites" — can reproduce the signal to cover an entire building.
Streamlined Connection: No lag
You do not need to constantly re-establish the connection as you move from one room to another. In addition, all your access points will have the same signal quality and strength. So, this means no more lag.
Adding range to a mesh network is usually not a problem. You simply connect nodes to gateways, which allow messages to pass through to the rest of the network. Plus, mesh networks can self-optimize and find the fastest route to deliver a message.
With Mesh Wi-Fi positioned throughout your office, you get a much more consistent, even speed wherever you go in a building.
Better Security
Good security support is another advantage that comes with the Mesh Wi-Fi. It allows you to easily and automatically check and install firmware updates. Authentication, security questions, and other protocols are all at your fingertips.
If you want to make sure your wireless Internet is safe, Mesh Wi-Fi is the way to make it safer.
Enhanced Productivity
Your connection might be 30 Mbps, but your bandwidth is split up among all of the people who are using it at once. That means if you have six people sharing a connection they each only get 5 Mbps, or if you have more employees it is even more limited. A Mesh Wi-Fi may not resolve the bandwidth issue, however it will ensure that that there is an optimum distribution of bandwidth to the various nodes on your mesh network, facilitating a more cohesive working experience.
No matter how advanced they are, when considering a mesh networks for your business, it is imperative to consider the following:
Cost factor
In comparison to traditional routers, Mesh Wi-Fi tend to cost more to purchase. If you opt for a top-notch Mesh Wi-Fi, you will have to pay around RM 1,300.00 or even more. You will add to this cost the add-on nodes which will cost about RM 200.00 per node.
In comparison to the costs of a traditional router, the costs may be higher. However, if we would compare the costs with the efficiency, then it is more than obvious that the mesh network is the preferred choice.
When looking into a Mesh Wi-Fi for your business, it would be prudent to consider a package that provides savings and enhanced service where possible. Now with unifi, you can get competitive packages that comes with free installation, free hardware device maintenance, competitive upgrades and add-on's. Click here to find out more.
If you wonder if your office is big enough to support a mesh network, the answer is very simple. Usually, if you need internet for several floors, or your office includes several rooms, then a mesh network is exactly what you need.
You can strategically place nodes on each floor and provide the necessary Wi-Fi coverage. The good news is that you don't have to deal with dead zones or connection gaps anymore. Now, you have mesh networks to help you stay connected wherever you are. No more router resets and antenna adjustments. You need to keep up the pace with the technology trends and use this innovative solution to do your work. With all these advantages, have you decided yet? Get your Mesh Wi-Fi today.
Interested in more helpful content?
Just sign up to access it all: a wealth of exclusive business insights, events you can attend and so much more!
Sign up now
Want to join the conversation?
To unlock comments, log in or sign up now!
Sign up now
Dig deeper on topics that matter to you