Article
How to Choose the Right Internet for Your Business
01 Aug 2022 • 3 min read
As a business you know how important a reliable Internet connection is. But when it comes to choosing an Internet Service Provider (ISP) it can be confusing to work out which one is the right one that fits your business requirements. 
Having the right business Internet connection ensures that you can stay in touch quickly and easily with your customers, stakeholders, and suppliers. While Internet speed is crucial to business success, it's also important to choose the right ISP that provides flexibility and scalability for when your business grows.
Things you must consider before choosing an ISP for your business:
1. What Internet speed does your business need?
If your business has multiple locations, high data usage, and deals with sensitive customer information and data, it's important that your Internet speed has enough bandwidth. Internet connection speed is defined as either "X Mbps/X Mbps" or "X Mbps symmetrical" and can be either "best effort" or guaranteed speed. Best effort Internet services are usually cheaper but don't guarantee the speed they provide. Guaranteed services cost more but provide reliable Internet speeds. 
 
The following table provides a representation of speed requirements.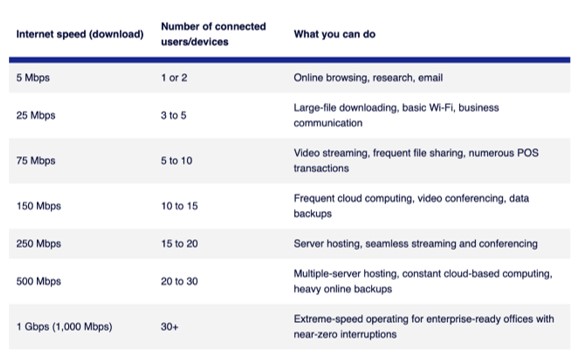 Unifi offers plans that provide between 100-800 Mbps coupled with free calls and free Mesh Wifi devices to support your business needs.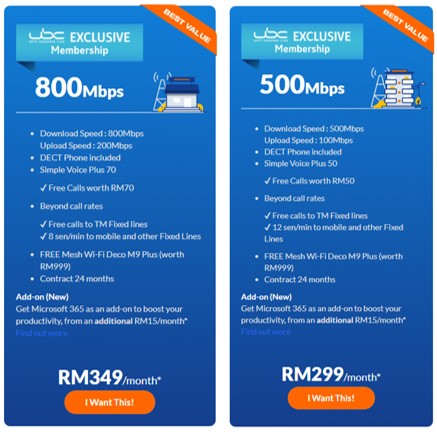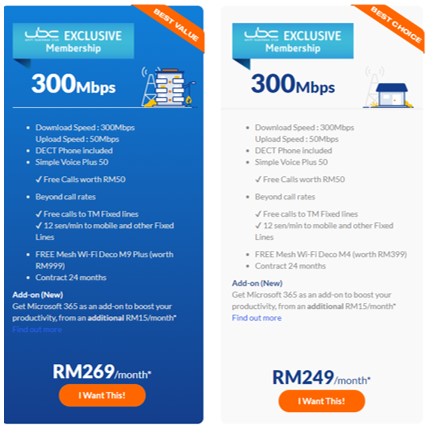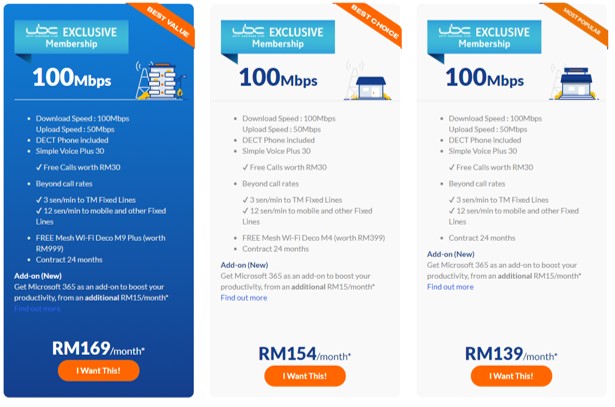 As a business, it's important that your provider offers flexibility for when your business grows. Business Internet isn't just location centric. With more employees working remotely or from home, it's important that your provider offers accessible solutions. TM offers dependable, scalable and future proof Internet solutions for all spectrums of business operations.
2.     What is the advertised speed Vs real world speed?
While many providers advertise theoretical maximum speeds, it's important to note that real-world speeds will be different. Internet speeds are affected by various factors including the technology from the broadband network to your business locations and network congestion. Some providers are better at delivering consistent Internet speeds than others. We suggest that you ask providers about their real-world speeds and how they vary during peak usage hours, for example, Unifi clearly declares that for the 800 Mbps package, the best effort upload speed of 200 Mbps is complemented by a fast download speed of the 800 Mbps.

3.     What other services do the providers offer that can benefit your business now and in the future?
As a business, it's important to consider what other services the provider has that can add value. From a unified communication solution with game-changing functionality and Cyber Security to Video and Web Conferencing Bundling up services with your provider can help your business cut costs and improve productivity.
When you're contemplating which provider to use for your medium or large business, it's important that you think about the value-added services available currently and services that you might need in the future. 
TM provides a number of add-on services such as unifi mobile, fixed IP and many other services that will complement your business.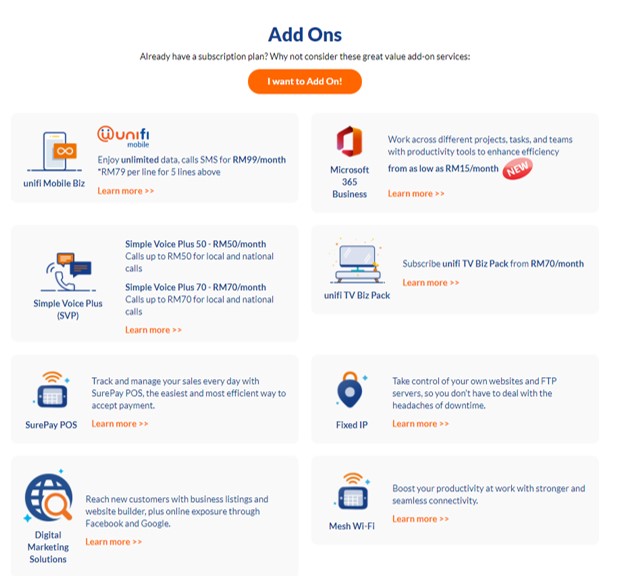 If your business is still storing information and data on-site, it may be time to consider moving to the cloud. While the cloud is often used to store data off-site, it can also be used for synchronised file access between multiple remote users and locations.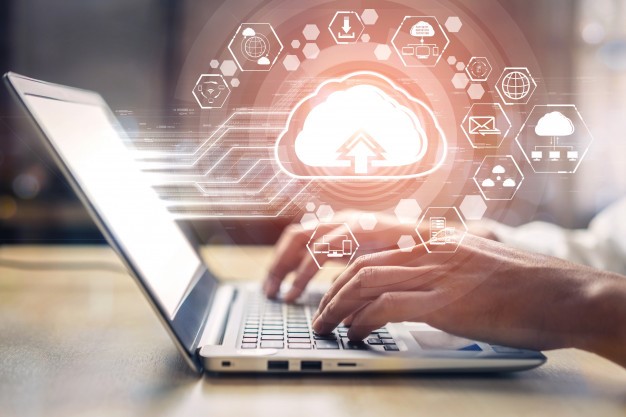 TM Cloud easily and efficiently moves your on-premises servers to a secure, reliable virtual server environment. Say goodbye to hardware failures and replacement costs as you easily add new servers and users, expand storage and add resources.
The best approach is to chat directly with a service provider once you have a full list of your team's needs. Discuss your requirements and which plans tailored to businesses may be in your best interest.
Be firm about what your team needs and how a provider can best meet those needs. Some providers such as unifi also offer connectivity from a mobile network as a backup.
On top of that, all Unifi Business customers are automatically a member of unifi Business Club (uBC) which brings you complete business resources and solutions to drive your business forward digitally; digital marketing, omnichannel solutions, Point of Sales (POS) solutions, financial solutions and many more. As a member, you are also continuously engaged with free webinars and exclusive workshops to ensure that your adoption knowledge and readiness are guided throughout.
The bottom line is that speed matters, and scaling back on costs in this area could mean long waits or a hindrance to productivity in other areas. It's essential to make the right choice when it comes to internet speed for your business broadband service.
Interested in more helpful content?
Just sign up to access it all: a wealth of exclusive business insights, events you can attend and so much more!
Sign up now
Want to join the conversation?
To unlock comments, log in or sign up now!
Sign up now
Dig deeper on topics that matter to you